Love Like Jesus  –  Live Different  –  Impact the World
Are you looking for ways to have an impact?  The Serve Globally Impact Ministries consist of several missions that have their roots in Arvada Covenant and are led by members of the church.  These  ministries represent the "Impact the World" part of our church vision.   Each provides an opportunity for you to become involved in a mission as well as get to know the missionaries and those they are serving and reaching out to.  Take some time to review the videos of each of these ministries and visit their web pages to learn more about what they do.
GuateStar
GuateStar helps the indigenous population of Guatemala break the cycle of poverty through educational and community outreach projects.  The primary methods involve building schools, the effective use of technology, teaching Biblical values and providing community healthcare.
Regular short term mission trips are available to Guatemala to participate in the work of GuateStar.
Visit the GuateStar website to learn more about this ministry.
<iframe id="vp1ZR79a" style="text-algin: center;" title="Video Player" src="https://s3.amazonaws.com/embed.animoto.com/play.html?w=swf/production/vp1&amp;e=1544462119&amp;f=ZR79akFpeJde7Cpf1AsFag&amp;d=0&amp;m=p&amp;r=360p+480p+720p&amp;volume=100&amp;start_res=480p&amp;i=m&amp;asset_domain=s3-p.animoto.com&amp;animoto_domain=animoto.com&amp;options=&#8221; width="432″ height="243″ frameborder="0″ allowfullscreen="allowfullscreen"></iframe>
Casa Hogar
Casa Hogar Palabra de Vida  –  El Porvenir del Estudiante  –  Cuidar Corazon
The Casa Hogar ministry entails the support and relationship building with three connected organizations in the city of Chihuahua, Mexico.  Casa Hogar Palabra de Vida is a orphanage to abandoned and abused children, El Porvenir del Estudiante is an opportunity for the older children to earn a scholarship and continue with an education at one of the trade schools, university, or bible school in Chihuahua, and Cuidar Corazon is a new ministry to provide care for the disabled children of Chihuahua.
Each year a team from Arvada Covenant visits Chihuahua to spend a few days with the children.  This is a wonderful opportunity to bless these children, and to give of yourself, while being blessed in return.
We have other opportunities throughout the year to be involved and impact the lives of these children, such as our Casa Hogar Christmas event that provides gifts to the children at the orphanage.  Pastor Gardea, the director, visits Denver several times throughout the year.  Visit our Casa Hogar web page to learn more.
International Hope Builders
Providing Shelter. Restoring Dignity. Building Hope
International Hope Builders partners with local government, churches, orphanages and agencies to identify children and families in desperate need of shelter to restore dignity, hope, and most basic human needs to the poorest of the poor in nations like Honduras, Mexico, and Haiti.
Regular short term mission trips are available to Honduras to participate in the work of International Hope Builders.
Visit the International Hope Builders website to learn more.
Ignite Myanmar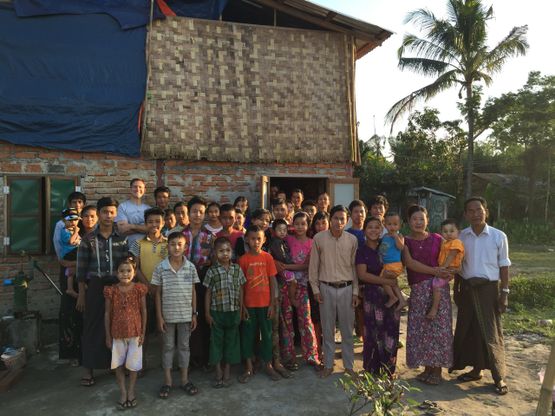 Ignite Myanmar's goal is to support evangelistic missionaries in Myanmar, while rescuing those in need, including orphans.  Ignite Myanmar began by supporting a single missionary as he sought to rescue orphans and run a weekly worship service out of his rented home.
Visit the Ignite Myanmar website to learn more.
Seeds of South Sudan
Based in Arvada, Colorado, USA, Seeds of South Sudan was founded in 2011 and received nonprofit 501(c)(3) status in October of 2013. A faith-based organization founded by Lost Boy, Arok Garang, we are dedicated to educating, empowering, and equipping children who have survived South Sudan's genocide. Our operation depends on a network of committed volunteers, supported by individual donors and civic, educational, and faith-based groups.
Our vision is to raise up the future leaders of South Sudan by providing them with quality education and leadership development. We are committed to educating 100 or more child survivors so that they may return to South Sudan and build a sustainable future for their communities.
Visit the Seeds of South Sudan website to learn more.
Alaska Christian College
Arvada Covenant Church has supported several ministries in Alaska for many years, the chief of which is Alaska Christian College, founded by a prior youth pastor from Arvada Covenant, Keith Hamilton.
Regular short term mission trips are provided to Alaska Christian College.
Visit the Alaska web page to learn more about our ministries in Alaska.